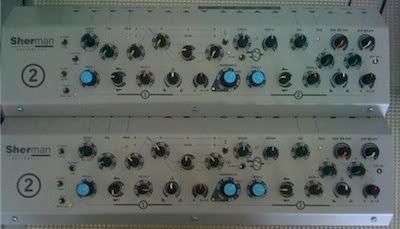 © 2010 Franck Smith's pair of Filterbank 2 (tabletop versions).
(excerpts from Sherman "abuser's manual")
BEWARE: THE SHERMAN USERS GROUP IS ONE YOU CAN ENTER, BUT NEVER LEAVE!
Any sound source, live or in studio can be used, but it's obvious that you won't get far without an external sound source.
Re: is a response to
this post
More info @
sherman.be
twitter.com/franck_smith
youtube.com/znshn
odiolorgnette.com