Saturday, 20 November 2010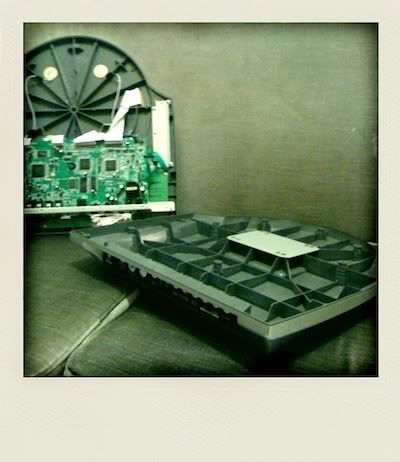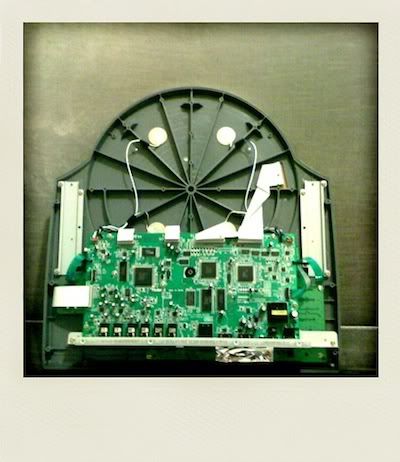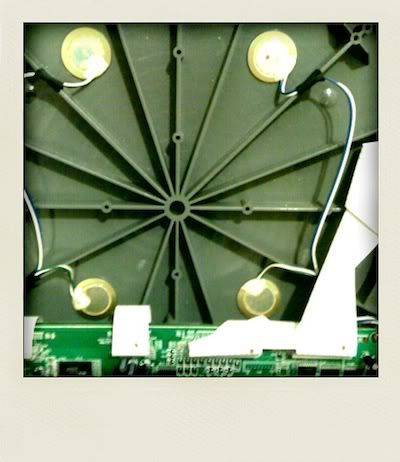 * Photos: inside a drum synth © 2010 Franck Smith
• Radioscopy of a Handsonic HPD15 (by Franck Smith)
http://www.youtube.com/odiolorgnette
http://www.youtube.com/znshn
http://twitter.com/franck_smith
http://francksmith.blogspot.com
http://soundcloud.com/francksmith
http://www.facebook.com/pages/Franck-Smith/267373610867
http://www.odiolorgnette.com
Posted by

Franck Smith
at 15:13
No comments:

Sunday, 14 November 2010
Drum machine playing on Roland Octapad SPD-30.
Performed by Franck Smith © 2010
Biography: Multi-instrumentalist and noise manufacturer using electronic devices, digital percussives, vinyls, anvils, gongs, sirens, drums, piano... also (un)known as Ijnveïq de Ernestine, Tlü Ejtko, Phrenq, Qiipnm'id Yorgomnüg... Franck Smith runs the private recording collection Odiolorgnette and works as an independant artist in electronic fields, experimental audiovisual contexts and soundtrack production... Member of the dual electronic unit Zn'shñ and co-founder of audiovisual production Rosebruit... On his Odiolorgnette collection Franck Smith publishes a catalog of hybrid recordings from personal studies on Pygmy polyphony, cartoon/video-game music to Butoh dance and Noh theater soundtracking via pure experimentation, noise and radical electronic... With Zn'shñ he recently played in Japan for a series of concerts in Tokyo around the cd release "Butoh sweets (Adventures in dance, flour and colours)"... With Rosebruit he works on new performances involving experimental VJing, film making and electronic music...
N.B.— both Zn'shñ and Rosebruit are collaborative projects with visual artist and sound-activist Elvire Bastendorff.
Recent discographic works:
* Zn'shñ, "Butoh sweets" (odl.9173-659)

* Franck Smith, "Théorème de point fixe" (odl.9173-658)

* Zn'shñ, "II" (odl.9173-657)

* Zn'shñ, "++" (odl.9173-656)
http://www.youtube.com/odiolorgnette
http://www.youtube.com/znshn
http://twitter.com/franck_smith
http://francksmith.blogspot.com
http://znshn.blogspot.com
http://www.odiolorgnette.com
http://www.rosebruit.com
http://francksmith.bandcamp.com
http://soundcloud.com/francksmith
http://www.facebook.com/pages/Franck-Smith/267373610867
http://www.facebook.com/pages/Znshn/249027124635
IF POSSIBLE USE HEADPHONES WHEN VIEWING VIDEO MATERIAL OR CONNECT YOUR COMPUTER TO A QUITE DECENT SOUND SYSTEM.
Posted by

Franck Smith
at 13:53
No comments: