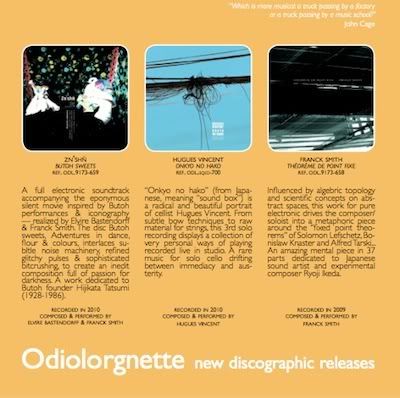 * Epigraph on top right: "Which is more musical: a truck passing by a factory or a truck passing by a music school?" —John Cage
New discographic works on Odiolorgnette:
* Zn'shñ, "Butoh sweets" (odl.9173-659) Jul 2010
here
A full electronic soundtrack accompanying the eponymous silent movie inspired by Butoh performances & iconography — realized by Elvire Bastendorff & Franck Smith. The disc "Butoh sweets" (subtitled Adventures in dance, flour & colours), interlaces subltle noise machinery, refined glitchy pulses & sophisticated bitcrushing, to create an inedit composition full of passion for darkness. A work dedicated to Butoh founder Hijikata Tatsumi (1928-1986).
* Hugues Vincent, "Onkyo no hako" (odl.sqed-700) Jul 2010
here
"Onkyo no hako" (from Japanese, meaning "sound box") is a radical and beautiful portrait of cellist Hugues Vincent. From subtle bow techniques to raw material for strings, this 3rd solo recording displays a collection of very personal ways of playing recorded live in studio. A rare music for solo cello drifting between immediacy and austerity.
* Franck Smith, "Théorème de point fixe" (odl.9173-658) Nov 2009
here
Influenced by algebric topology and scientific concepts on abstract spaces, this work for pure electronic drives the composer/soloist into a metaphoric piece around the ''fixed point theorems'' of Solomon Lefschetz, Bonislaw Knaster and Alfred Tarski... An amazing mental piece in 37 parts dedicated to Japanese sound artist and experimental composer Ryoji Ikeda.
Links:
http://www.odiolorgnette.com/
http://francksmith.blogspot.com/

http://twitter.com/franck_smith

http://www.myspace.com/sthintosmithereens

http://www.facebook.com/pages/Franck-Smith/267373610867
http://www.vimeo.com/francksmith

http://www.youtube.com/znshn

http://soundcloud.com/francksmith

http://znshn.blogspot.com/

http://www.myspace.com/znshn

http://www.facebook.com/pages/Znshn/249027124635