Biscuiting w/ a pinky drum synth (by Franck Smith) © 2010 — Biscuit by Oto Machines is a 8-bit effects/processor allowing precise Lo-Fi treatments and rate frequency downgrading. Used here with drum synth mixing adapted turntable drumming and scratching technics w/ video-game esthetic and real-time electronic beat-making (No loops and no sequencer used here).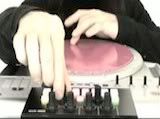 twitter.com/franck_smith
youtube.com/znshn
odiolorgnette.com
IF POSSIBLE USE HEADPHONES WHEN VIEWING VIDEO MATERIAL OR CONNECT YOUR COMPUTER TO A QUITE DECENT SOUND SYSTEM.